MUCH MORE THAN A SAILING BOAT
When Dufour's know-how re-invents itself to craft the sailing boat of tomorrow. This results in a 47-footer which is both beautifully designed and high-performance for incredible thrills.
Let us help you select your new Dufour Yacht. Contact one of our sales team to discuss how we can help.
There are dozens of details to think about when selecting your new Dufour Yacht and hundreds of options.
We have a long standing relationship with the manufacturer and are here to help you navigate and personalize your investment. 
The Dufour 470 combines both Dufour's know-how and the Brand's desire to innovate. This model, in line with its predecessor, enjoys the yard's DNA while offering an edge of modernity. Its hull design and the fluidity of its deck layout already make it an iconic sailing boat. Its modernity, its simplicity and its elegance already make it a new "classic."
EASY VERSION
The "Easy" version is intended for owners and renters in search of simplicity and comfort. Its elegant movement plan allows great mobility.
OCEAN VERSION
The "Ocean" version suits owners who wish for a more traditional movement plan perfectly with the sheets positioned on the coamings and the halyard and mainsail trolley handlings near the helm station.
PERFORMANCE VERSION
The "Performance" version is ideal for lovers of thrills and regatteers. With its six high-quality winches, its clew at the rear of the cockpit and its "Performance" equipment, this model is transformed into a pure racer.
An interior layout in three versions
The Dufour 470 comes in three interior layouts. Every sailor will find what they are seeking, whether it's sailing with a large or reduced crew. Design innovations allow for an optimum use of space to guarantee simple sailing while retaining very comfortable sleeping areas.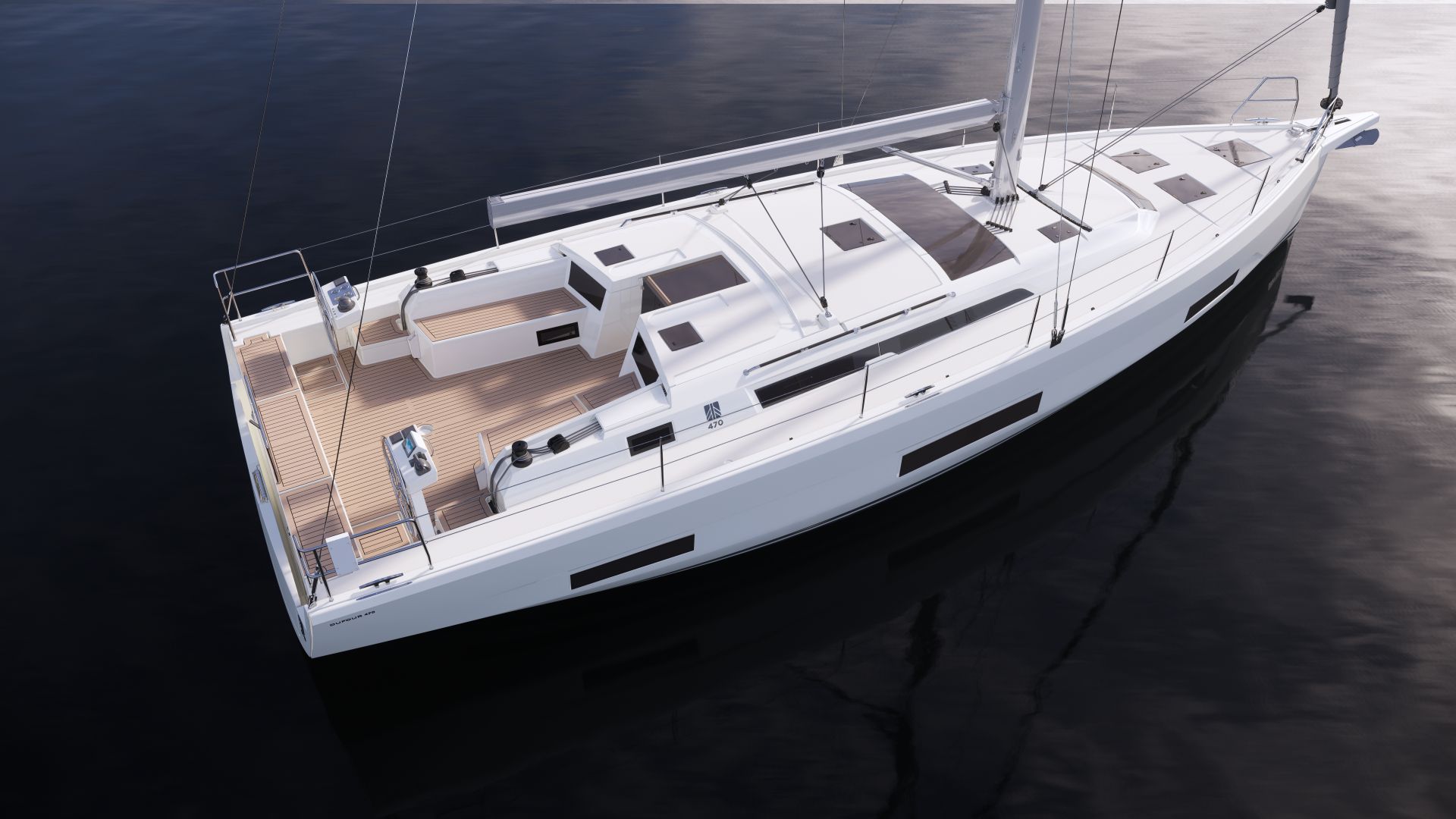 Specifications
Construction
Architect : Felci Yacht Design
Year : 2021
Hull construction : Fiberglass / contact
Deck construction : Injection
Technical specifications
​
Overall length

14.85 m

Waterline length

13.99 m

Hull length

13.55 m

Max beam

4.74

Light displacement

13 200 kg

Draft

2.25 m

Keel weight

3 550 kg

Fuel tank capacity

250 L

Water tank capacity

530 L

Engine power

60 cv (75 opt)

Sail area

107 m2

Mainsail

Genoa

50 m2